the story of our home + living room tour
When Sebastian and I met, he already had a house (a self-sufficient, mature 25 year old guy - score!) and I was almost ready to purchase myself. I didn't want to change my plans just because he already had a house, so I moved forward with the buying process in the spring of 2016. The market was a little insane. My mom, Seb and I toured lots of places. I think I put in 2 or 3 offers with no luck. Things were selling within hours of being listed for more than selling price. I was headed out of town for a work conference the first weekend in April when a lot of people list their houses and so Mom volunteered to go to a few showings for me.
Well, one of the houses she looked at was good, but I wouldn't be able to view it before putting in an offer. Lucky for me, I know she has great taste, so I took a risk and went ahead with the offer. I found out as I was boarding the plane back home that they had accepted! I was able to see the house shortly after landing and I knew it wasn't to my taste and needed a little work, but I definitely liked it.
Here's the overview: 2 story, 1500 sq ft townhouse. 2 bed, 2.5 bath. With a loft in the guest bedroom!
So once I moved in, we started work immediately. I knew there was a ton I wanted to do (I love this stuff) and immediately started painting. I'm going to go room by room, but here's a look at the living room before I got my hands on it.

So as you can see, the theme is traditional + beige — definitely not my thing. But after two paint colors and 6 different furniture arrangements, here's what it looks like now. More on the lack of TV situation in a moment.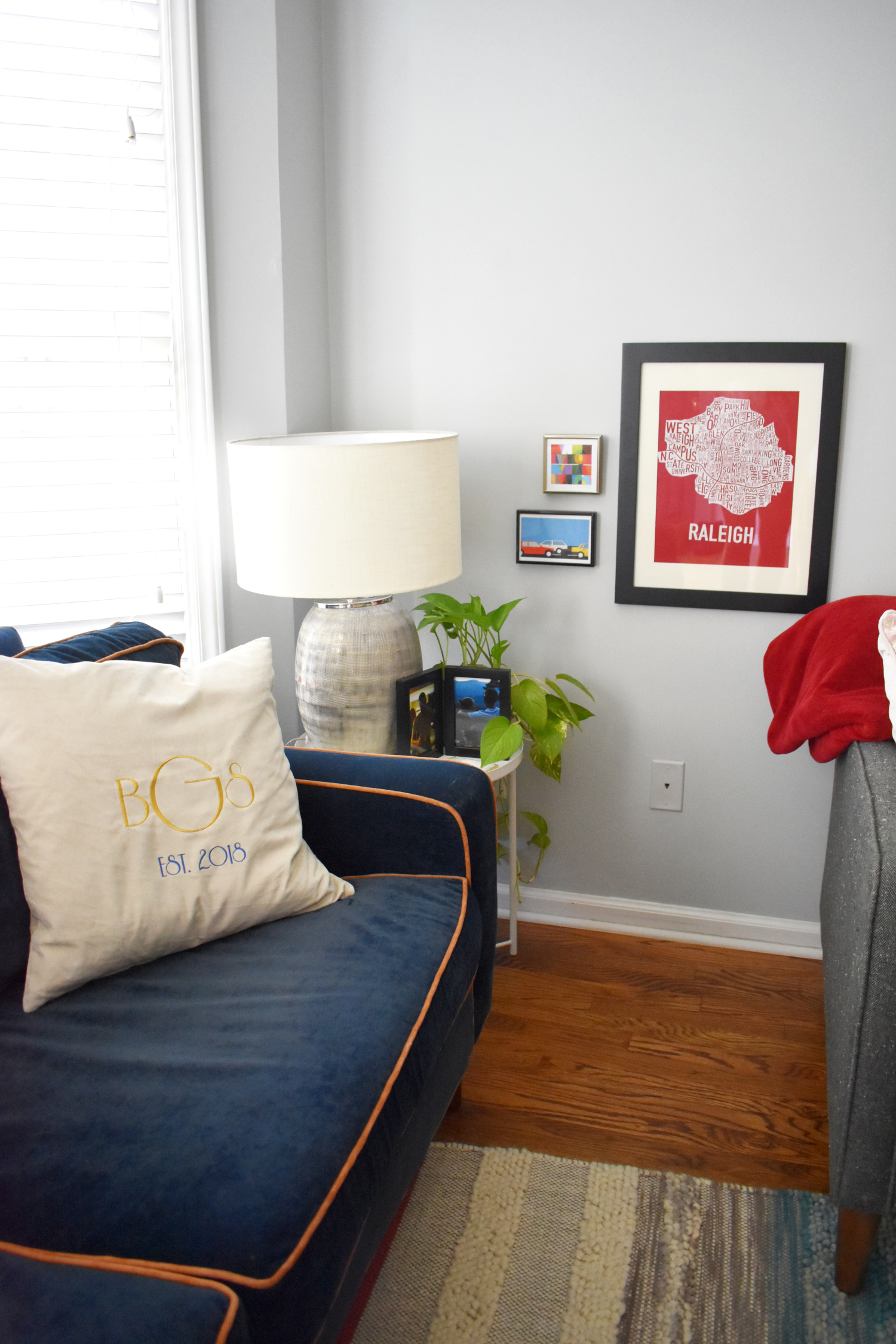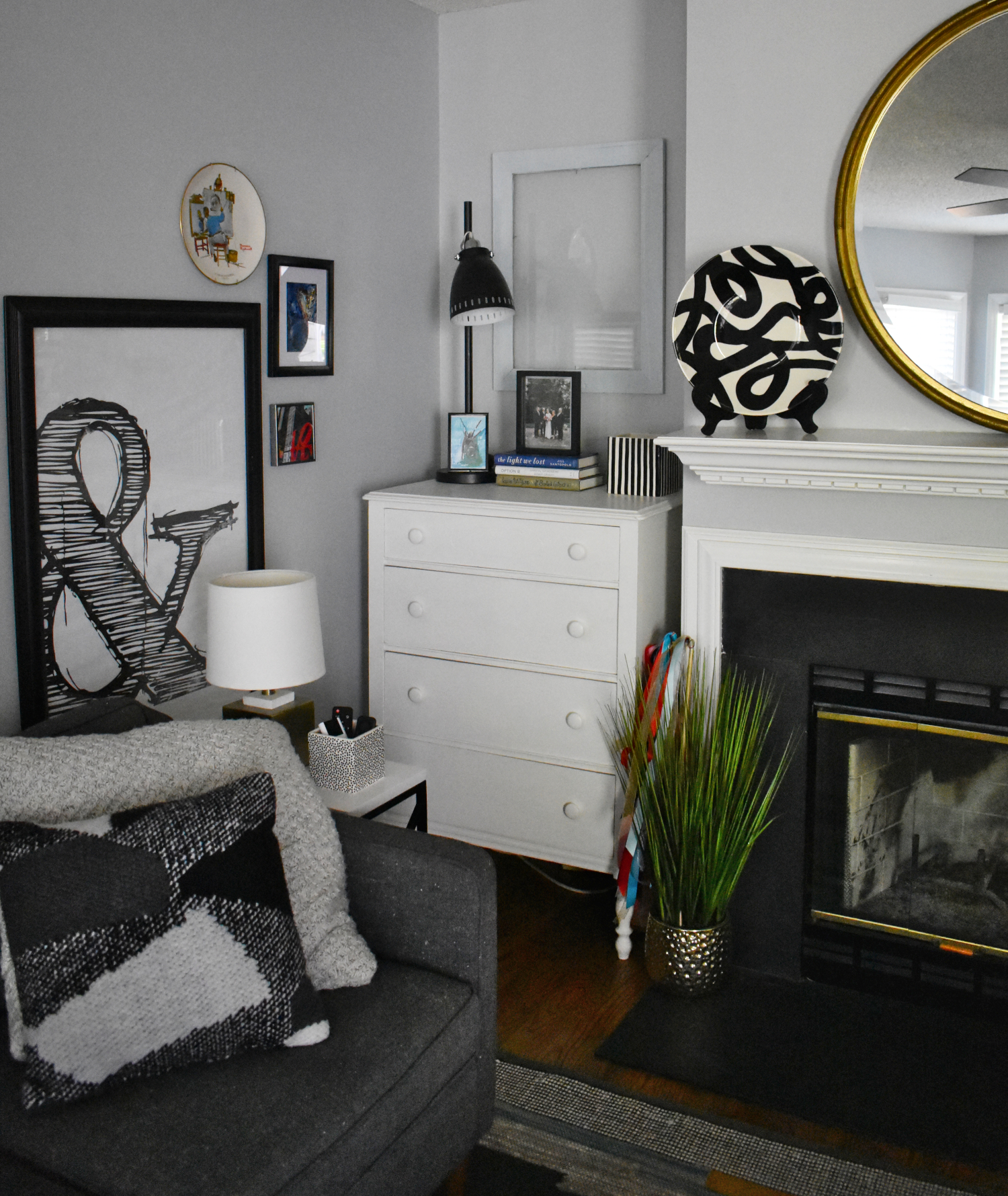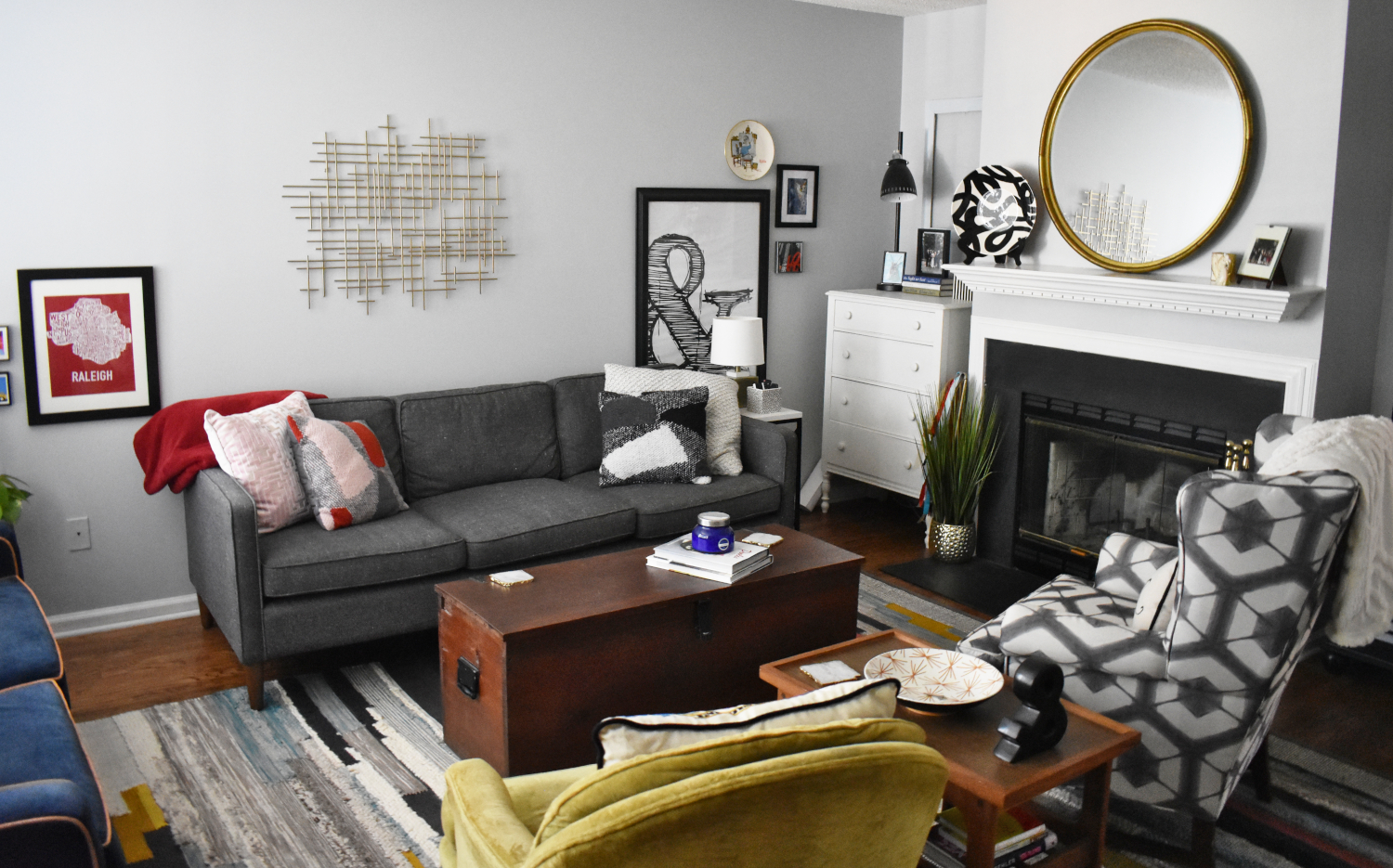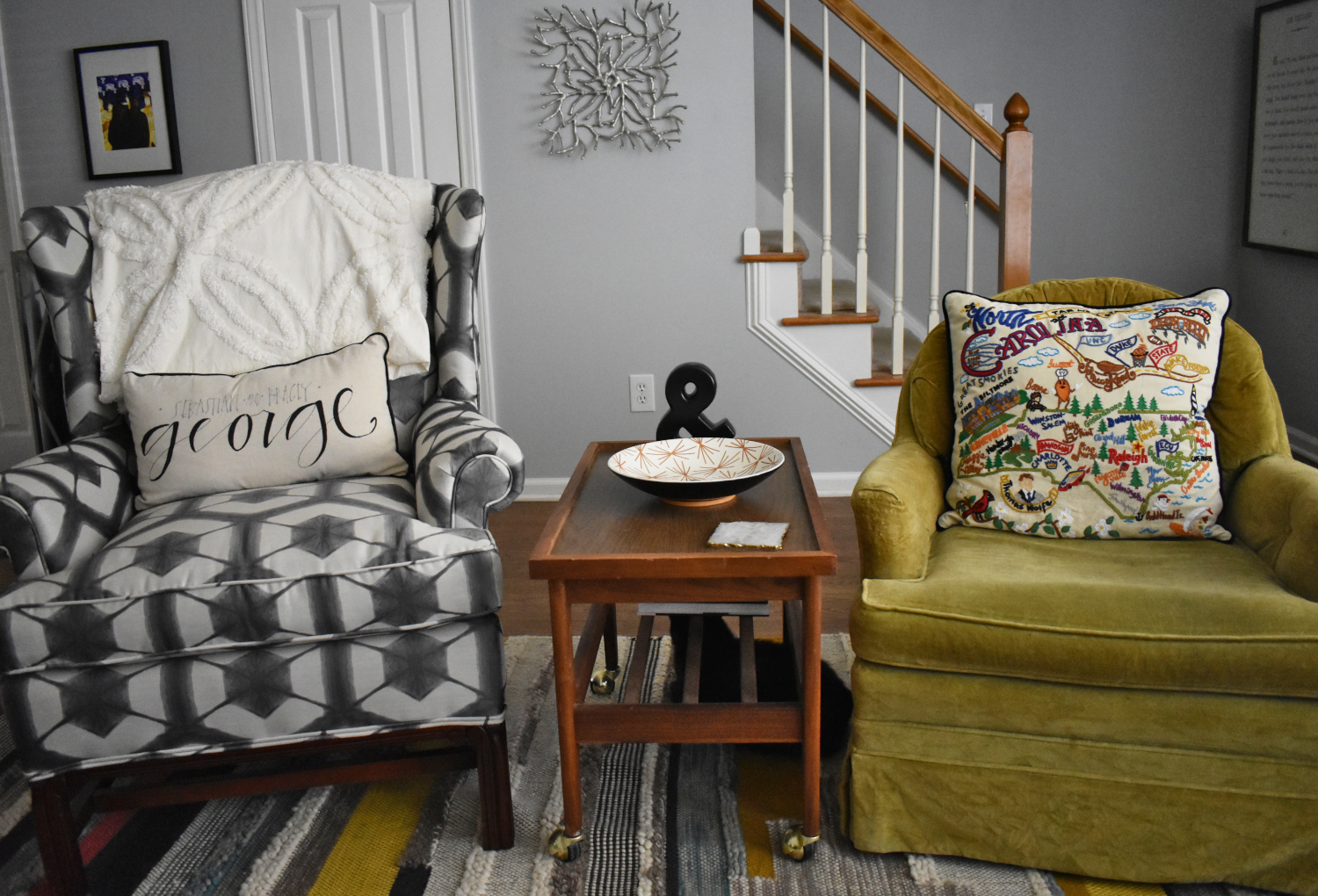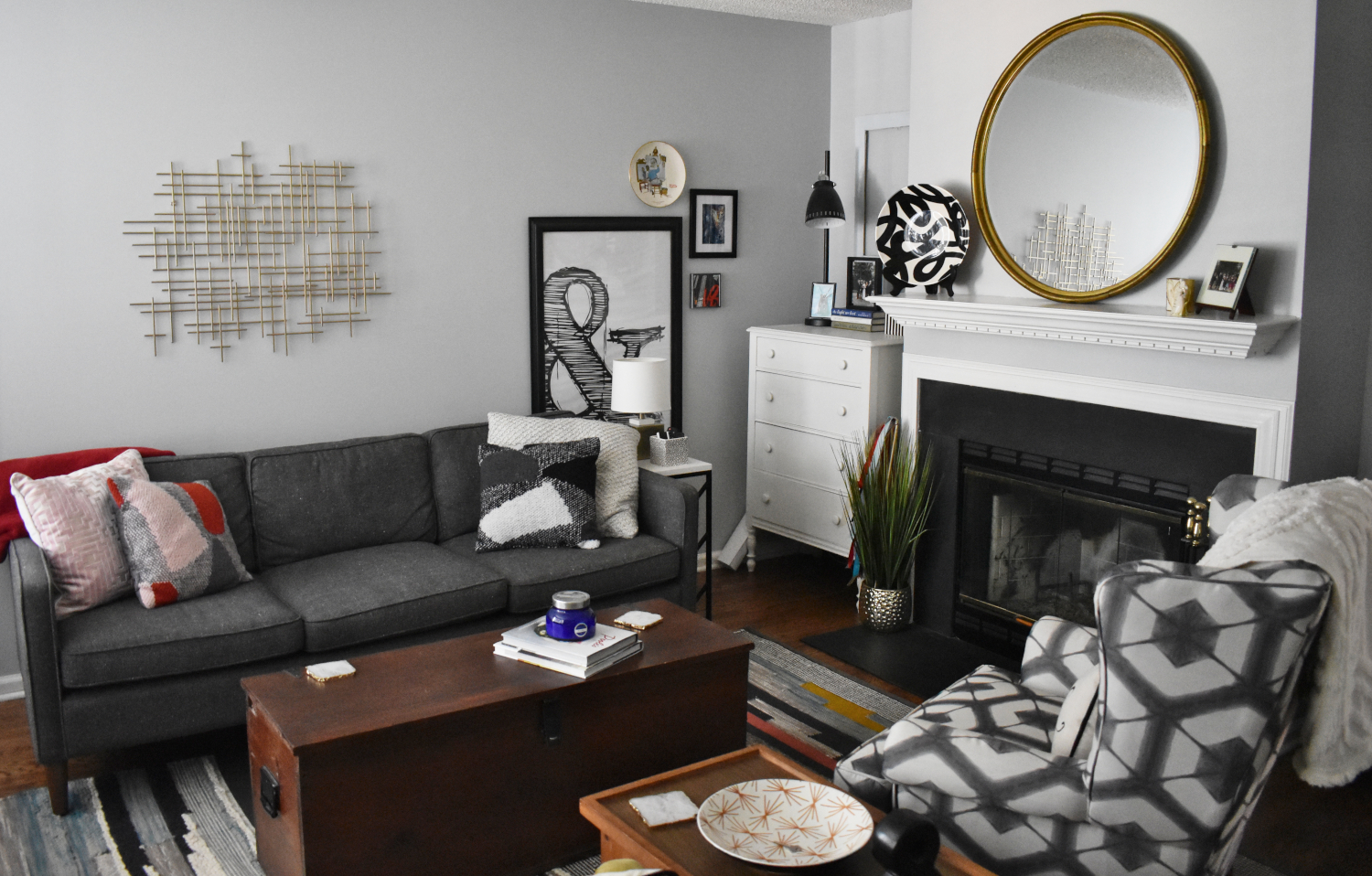 So one thing you will notice is there's no TV that the room is centered around. We did have a TV on a table against the large wall for a while, but I found that it just took up more space than I was willing to give away. I'm also not a huge fan of TVs over fireplaces, especially when it's the first thing you see when you walk into a house. SO, we found an alternative solution. I remembered this post from A Beautiful Mess and we decided to give it a try! So we now have a projector screen hanging over our coat closet (on the wall with the stairs) so that you can see it perfectly from the couches! This may not be for everyone as the quality isn't quite as good as a regular TV, but it's perfect for us because we have plenty of space and seating without losing the ability to watch a show when we want. I love to entertain so the seating in here is awesome for a smaller living room.
I change things in here regularly and I don't think that will ever change, but I'm really happy with where it is right now. It's cozy and inviting and we love to spend our time in here with friends and usually drinks. More room tours and stories about our home (including how it became "ours") to come!